Warning
: Invalid argument supplied for foreach() in
/home/wp_2jerat/lahojadearena.com/wp-content/plugins/wp-optimize-by-xtraffic/Application/Service/OptimizeLinks.php
on line
815
Warning
: Invalid argument supplied for foreach() in
/home/wp_2jerat/lahojadearena.com/wp-content/plugins/wp-optimize-by-xtraffic/Application/Service/OptimizeLinks.php
on line
815
Warning
: Invalid argument supplied for foreach() in
/home/wp_2jerat/lahojadearena.com/wp-content/plugins/wp-optimize-by-xtraffic/Application/Service/OptimizeLinks.php
on line
815
Warning
: Invalid argument supplied for foreach() in
/home/wp_2jerat/lahojadearena.com/wp-content/plugins/wp-optimize-by-xtraffic/Application/Service/OptimizeLinks.php
on line
815
Warning
: Invalid argument supplied for foreach() in
/home/wp_2jerat/lahojadearena.com/wp-content/plugins/wp-optimize-by-xtraffic/Application/Service/OptimizeLinks.php
on line
815
Warning
: Invalid argument supplied for foreach() in
/home/wp_2jerat/lahojadearena.com/wp-content/plugins/wp-optimize-by-xtraffic/Application/Service/OptimizeLinks.php
on line
815
Warning
: Invalid argument supplied for foreach() in
/home/wp_2jerat/lahojadearena.com/wp-content/plugins/wp-optimize-by-xtraffic/Application/Service/OptimizeLinks.php
on line
815
Warning
: Invalid argument supplied for foreach() in
/home/wp_2jerat/lahojadearena.com/wp-content/plugins/wp-optimize-by-xtraffic/Application/Service/OptimizeLinks.php
on line
815
Warning
: Invalid argument supplied for foreach() in
/home/wp_2jerat/lahojadearena.com/wp-content/plugins/wp-optimize-by-xtraffic/Application/Service/OptimizeLinks.php
on line
815
Warning
: Invalid argument supplied for foreach() in
/home/wp_2jerat/lahojadearena.com/wp-content/plugins/wp-optimize-by-xtraffic/Application/Service/OptimizeLinks.php
on line
815
Warning
: Invalid argument supplied for foreach() in
/home/wp_2jerat/lahojadearena.com/wp-content/plugins/wp-optimize-by-xtraffic/Application/Service/OptimizeLinks.php
on line
815
Warning
: Invalid argument supplied for foreach() in
/home/wp_2jerat/lahojadearena.com/wp-content/plugins/wp-optimize-by-xtraffic/Application/Service/OptimizeLinks.php
on line
815
Warning
: Invalid argument supplied for foreach() in
/home/wp_2jerat/lahojadearena.com/wp-content/plugins/wp-optimize-by-xtraffic/Application/Service/OptimizeLinks.php
on line
815
Warning
: Invalid argument supplied for foreach() in
/home/wp_2jerat/lahojadearena.com/wp-content/plugins/wp-optimize-by-xtraffic/Application/Service/OptimizeLinks.php
on line
815
Warning
: Invalid argument supplied for foreach() in
/home/wp_2jerat/lahojadearena.com/wp-content/plugins/wp-optimize-by-xtraffic/Application/Service/OptimizeLinks.php
on line
815
Warning
: Invalid argument supplied for foreach() in
/home/wp_2jerat/lahojadearena.com/wp-content/plugins/wp-optimize-by-xtraffic/Application/Service/OptimizeLinks.php
on line
815
Warning
: Invalid argument supplied for foreach() in
/home/wp_2jerat/lahojadearena.com/wp-content/plugins/wp-optimize-by-xtraffic/Application/Service/OptimizeLinks.php
on line
815
Warning
: Invalid argument supplied for foreach() in
/home/wp_2jerat/lahojadearena.com/wp-content/plugins/wp-optimize-by-xtraffic/Application/Service/OptimizeLinks.php
on line
815
Warning
: Invalid argument supplied for foreach() in
/home/wp_2jerat/lahojadearena.com/wp-content/plugins/wp-optimize-by-xtraffic/Application/Service/OptimizeLinks.php
on line
815
Warning
: Invalid argument supplied for foreach() in
/home/wp_2jerat/lahojadearena.com/wp-content/plugins/wp-optimize-by-xtraffic/Application/Service/OptimizeLinks.php
on line
815
Warning
: Invalid argument supplied for foreach() in
/home/wp_2jerat/lahojadearena.com/wp-content/plugins/wp-optimize-by-xtraffic/Application/Service/OptimizeLinks.php
on line
815
Warning
: Invalid argument supplied for foreach() in
/home/wp_2jerat/lahojadearena.com/wp-content/plugins/wp-optimize-by-xtraffic/Application/Service/OptimizeLinks.php
on line
815
Warning
: Invalid argument supplied for foreach() in
/home/wp_2jerat/lahojadearena.com/wp-content/plugins/wp-optimize-by-xtraffic/Application/Service/OptimizeLinks.php
on line
815
Warning
: Invalid argument supplied for foreach() in
/home/wp_2jerat/lahojadearena.com/wp-content/plugins/wp-optimize-by-xtraffic/Application/Service/OptimizeLinks.php
on line
815
Warning
: Invalid argument supplied for foreach() in
/home/wp_2jerat/lahojadearena.com/wp-content/plugins/wp-optimize-by-xtraffic/Application/Service/OptimizeLinks.php
on line
815
Warning
: Invalid argument supplied for foreach() in
/home/wp_2jerat/lahojadearena.com/wp-content/plugins/wp-optimize-by-xtraffic/Application/Service/OptimizeLinks.php
on line
815
Warning
: Invalid argument supplied for foreach() in
/home/wp_2jerat/lahojadearena.com/wp-content/plugins/wp-optimize-by-xtraffic/Application/Service/OptimizeLinks.php
on line
815
Warning
: Invalid argument supplied for foreach() in
/home/wp_2jerat/lahojadearena.com/wp-content/plugins/wp-optimize-by-xtraffic/Application/Service/OptimizeLinks.php
on line
815
Warning
: Invalid argument supplied for foreach() in
/home/wp_2jerat/lahojadearena.com/wp-content/plugins/wp-optimize-by-xtraffic/Application/Service/OptimizeLinks.php
on line
815
Warning
: Invalid argument supplied for foreach() in
/home/wp_2jerat/lahojadearena.com/wp-content/plugins/wp-optimize-by-xtraffic/Application/Service/OptimizeLinks.php
on line
815
Warning
: Invalid argument supplied for foreach() in
/home/wp_2jerat/lahojadearena.com/wp-content/plugins/wp-optimize-by-xtraffic/Application/Service/OptimizeLinks.php
on line
815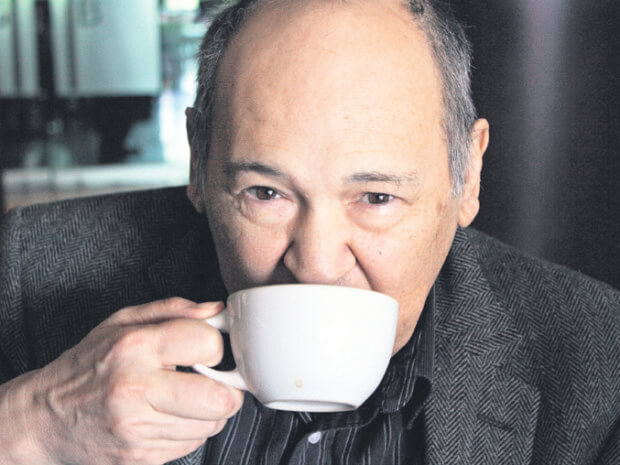 8 Mayo, 2017
Leo la "Reunión de cuentos" de Daniel Sada, recientemente editada por el FCE.
El primer relato contenido en el tomo, de nombre "Eumelia", es acerca de una ancianita con reumas a la que sus familiares traen en un viaje inhumano hasta la ciudad de México. El objetivo del paseo es que la ruca vea a un médico pero, a la vez, los chavos quieren aprovechar la oferta de vida nocturna en la capirucha y brincar de cabaret en cabaret hasta que se haga de día. Los parientes de Eumelia se van de peda y la abuela se pasa la noche sufriendo porque el doctor le pidió una muestra de caca para unos análisis y pues… su sistema digestivo hace mucho que dejó de funcionar por voluntad propia. La anciana está aterrada, insomne recuerda que su madre hablaba pestes de la gran ciudad alegando que todos acá somos una bola de rateros. Mira las luces a la distancia e incluso se conmueve, la ciudad es agradable después de todo. En contra de todos los pronósticos, la anciana hace sus deposiciones y las guarda en un frasco adentro de una bolsa de Liverpool. A la mañana siguiente, sus familiares no han vuelto, camina sola rumbo al consultorio con la bolsa en la mano. Pasa alguien corriendo y le arrebata el paquete con su caca. Ella grita desesperada.
Este, amigos, es un cuentazo.
Ejemplifica perfecto lo que para mí es una estructura cuentística perfecta. Nada le sobra. La anécdota es redonda. El personaje cambia. Decía Edmundo Valadez que un cuento es aquello que lees de una sentada y recuerdas toda tu vida. No tuve inconvenientes en contarles la trama entera porque ciertamente es lo de menos. El lenguaje de Sada, se sabe, es una mezcla entre erudición y chacoteo. "Escribía para dar vida a un mundo incomparable, con una voz que no se parecía a ninguna otra", dice la contraportada del libro. Maldición: ¡es cierto! Si quieren aprender a escribir cuentos: lean a Sada.
En la página de Letras Libres se encuentra el cuento "Eumelia" íntegro además de un podcast en el que Emiliano Monge lo lee.
10 Mayo, 2017
Día de las Madres. Recuerdo la de "Opiniones de un payaso". La familia entera se muere de hambre y el protagonista cacha a su madre mordiendo un jamón a la mitad de la noche.
José Vasconcelos llega a su pueblo en "Ulises Criollo", su madre murió recién y yace ya bajo tierra. Sin embargo dejó un mensaje disperso en todos los habitantes del lugar que no dudan en repetírselo al huérfano. El mensaje es algo así como: "nunca olvides a dios todopoderoso". No olvidemos nosotros que la novela inicia en el cálido vientre de la madre.
La moribunda madre de "Mientras Agonizo".
Rose of Sharon en la página final de "Los viñedos de la ira".
La mamá de Codine (libro del mismo título, escrito por el Gorki de los Balcanes: Panait Istrati) no se cansa de decirle que se arrepiente de haberlo engendrado, le comenta que cuando estaba embarazada se golpeaba la panza con los puños. Codine es un gigante monstruoso, violento y brutal. En una de las arengas de la madre él decide arrojarse un caldero lleno de agua hirviendo por la garganta con tal de no seguir escuchándola. No me acuerdo bien pero creo que antes la mata. Prometo re leerlo.
The following two tabs change content below.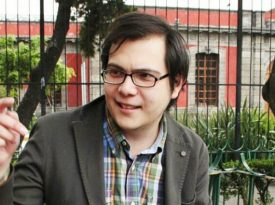 Gabriel Rodríguez Liceaga
Defeño, del Barrio Bravo de Tepito. Autor de los libros de cuentos "Niños tristes" (Premio Maria Luisa Puga 2010), "Perros sin nombre" (Premio Bellas Artes de Cuento San Luis Potosí 2012) y "¡Canta, herida!" (Premio Nacional de Cuento Agustín Yáñez 2015). Además de las novelas "Balas en los ojos", "El siglo de las mujeres" y "Hipsterboy".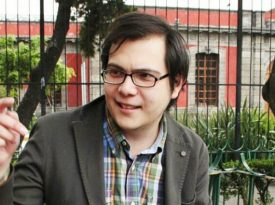 Artículos recientes por Gabriel Rodríguez Liceaga
(_d8b3e868_)