Warning
: Invalid argument supplied for foreach() in
/home/wp_2jerat/lahojadearena.com/wp-content/plugins/wp-optimize-by-xtraffic/Application/Service/OptimizeLinks.php
on line
815
Warning
: Invalid argument supplied for foreach() in
/home/wp_2jerat/lahojadearena.com/wp-content/plugins/wp-optimize-by-xtraffic/Application/Service/OptimizeLinks.php
on line
815
Warning
: Invalid argument supplied for foreach() in
/home/wp_2jerat/lahojadearena.com/wp-content/plugins/wp-optimize-by-xtraffic/Application/Service/OptimizeLinks.php
on line
815
Warning
: Invalid argument supplied for foreach() in
/home/wp_2jerat/lahojadearena.com/wp-content/plugins/wp-optimize-by-xtraffic/Application/Service/OptimizeLinks.php
on line
815
Warning
: Invalid argument supplied for foreach() in
/home/wp_2jerat/lahojadearena.com/wp-content/plugins/wp-optimize-by-xtraffic/Application/Service/OptimizeLinks.php
on line
815
Warning
: Invalid argument supplied for foreach() in
/home/wp_2jerat/lahojadearena.com/wp-content/plugins/wp-optimize-by-xtraffic/Application/Service/OptimizeLinks.php
on line
815
Warning
: Invalid argument supplied for foreach() in
/home/wp_2jerat/lahojadearena.com/wp-content/plugins/wp-optimize-by-xtraffic/Application/Service/OptimizeLinks.php
on line
815
Warning
: Invalid argument supplied for foreach() in
/home/wp_2jerat/lahojadearena.com/wp-content/plugins/wp-optimize-by-xtraffic/Application/Service/OptimizeLinks.php
on line
815
Warning
: Invalid argument supplied for foreach() in
/home/wp_2jerat/lahojadearena.com/wp-content/plugins/wp-optimize-by-xtraffic/Application/Service/OptimizeLinks.php
on line
815
Warning
: Invalid argument supplied for foreach() in
/home/wp_2jerat/lahojadearena.com/wp-content/plugins/wp-optimize-by-xtraffic/Application/Service/OptimizeLinks.php
on line
815
Warning
: Invalid argument supplied for foreach() in
/home/wp_2jerat/lahojadearena.com/wp-content/plugins/wp-optimize-by-xtraffic/Application/Service/OptimizeLinks.php
on line
815
Warning
: Invalid argument supplied for foreach() in
/home/wp_2jerat/lahojadearena.com/wp-content/plugins/wp-optimize-by-xtraffic/Application/Service/OptimizeLinks.php
on line
815
Warning
: Invalid argument supplied for foreach() in
/home/wp_2jerat/lahojadearena.com/wp-content/plugins/wp-optimize-by-xtraffic/Application/Service/OptimizeLinks.php
on line
815
Warning
: Invalid argument supplied for foreach() in
/home/wp_2jerat/lahojadearena.com/wp-content/plugins/wp-optimize-by-xtraffic/Application/Service/OptimizeLinks.php
on line
815
Warning
: Invalid argument supplied for foreach() in
/home/wp_2jerat/lahojadearena.com/wp-content/plugins/wp-optimize-by-xtraffic/Application/Service/OptimizeLinks.php
on line
815
Warning
: Invalid argument supplied for foreach() in
/home/wp_2jerat/lahojadearena.com/wp-content/plugins/wp-optimize-by-xtraffic/Application/Service/OptimizeLinks.php
on line
815
Warning
: Invalid argument supplied for foreach() in
/home/wp_2jerat/lahojadearena.com/wp-content/plugins/wp-optimize-by-xtraffic/Application/Service/OptimizeLinks.php
on line
815
Warning
: Invalid argument supplied for foreach() in
/home/wp_2jerat/lahojadearena.com/wp-content/plugins/wp-optimize-by-xtraffic/Application/Service/OptimizeLinks.php
on line
815
Warning
: Invalid argument supplied for foreach() in
/home/wp_2jerat/lahojadearena.com/wp-content/plugins/wp-optimize-by-xtraffic/Application/Service/OptimizeLinks.php
on line
815
Warning
: Invalid argument supplied for foreach() in
/home/wp_2jerat/lahojadearena.com/wp-content/plugins/wp-optimize-by-xtraffic/Application/Service/OptimizeLinks.php
on line
815
Warning
: Invalid argument supplied for foreach() in
/home/wp_2jerat/lahojadearena.com/wp-content/plugins/wp-optimize-by-xtraffic/Application/Service/OptimizeLinks.php
on line
815
Warning
: Invalid argument supplied for foreach() in
/home/wp_2jerat/lahojadearena.com/wp-content/plugins/wp-optimize-by-xtraffic/Application/Service/OptimizeLinks.php
on line
815
Warning
: Invalid argument supplied for foreach() in
/home/wp_2jerat/lahojadearena.com/wp-content/plugins/wp-optimize-by-xtraffic/Application/Service/OptimizeLinks.php
on line
815
Warning
: Invalid argument supplied for foreach() in
/home/wp_2jerat/lahojadearena.com/wp-content/plugins/wp-optimize-by-xtraffic/Application/Service/OptimizeLinks.php
on line
815
Warning
: Invalid argument supplied for foreach() in
/home/wp_2jerat/lahojadearena.com/wp-content/plugins/wp-optimize-by-xtraffic/Application/Service/OptimizeLinks.php
on line
815
Warning
: Invalid argument supplied for foreach() in
/home/wp_2jerat/lahojadearena.com/wp-content/plugins/wp-optimize-by-xtraffic/Application/Service/OptimizeLinks.php
on line
815
Warning
: Invalid argument supplied for foreach() in
/home/wp_2jerat/lahojadearena.com/wp-content/plugins/wp-optimize-by-xtraffic/Application/Service/OptimizeLinks.php
on line
815
Warning
: Invalid argument supplied for foreach() in
/home/wp_2jerat/lahojadearena.com/wp-content/plugins/wp-optimize-by-xtraffic/Application/Service/OptimizeLinks.php
on line
815
Warning
: Invalid argument supplied for foreach() in
/home/wp_2jerat/lahojadearena.com/wp-content/plugins/wp-optimize-by-xtraffic/Application/Service/OptimizeLinks.php
on line
815
Warning
: Invalid argument supplied for foreach() in
/home/wp_2jerat/lahojadearena.com/wp-content/plugins/wp-optimize-by-xtraffic/Application/Service/OptimizeLinks.php
on line
815
Warning
: Invalid argument supplied for foreach() in
/home/wp_2jerat/lahojadearena.com/wp-content/plugins/wp-optimize-by-xtraffic/Application/Service/OptimizeLinks.php
on line
815
Warning
: Invalid argument supplied for foreach() in
/home/wp_2jerat/lahojadearena.com/wp-content/plugins/wp-optimize-by-xtraffic/Application/Service/OptimizeLinks.php
on line
815
Warning
: Invalid argument supplied for foreach() in
/home/wp_2jerat/lahojadearena.com/wp-content/plugins/wp-optimize-by-xtraffic/Application/Service/OptimizeLinks.php
on line
815
Warning
: Invalid argument supplied for foreach() in
/home/wp_2jerat/lahojadearena.com/wp-content/plugins/wp-optimize-by-xtraffic/Application/Service/OptimizeLinks.php
on line
815
Warning
: Invalid argument supplied for foreach() in
/home/wp_2jerat/lahojadearena.com/wp-content/plugins/wp-optimize-by-xtraffic/Application/Service/OptimizeLinks.php
on line
815
Warning
: Invalid argument supplied for foreach() in
/home/wp_2jerat/lahojadearena.com/wp-content/plugins/wp-optimize-by-xtraffic/Application/Service/OptimizeLinks.php
on line
815
Warning
: Invalid argument supplied for foreach() in
/home/wp_2jerat/lahojadearena.com/wp-content/plugins/wp-optimize-by-xtraffic/Application/Service/OptimizeLinks.php
on line
815
Warning
: Invalid argument supplied for foreach() in
/home/wp_2jerat/lahojadearena.com/wp-content/plugins/wp-optimize-by-xtraffic/Application/Service/OptimizeLinks.php
on line
815
Warning
: Invalid argument supplied for foreach() in
/home/wp_2jerat/lahojadearena.com/wp-content/plugins/wp-optimize-by-xtraffic/Application/Service/OptimizeLinks.php
on line
815
Warning
: Invalid argument supplied for foreach() in
/home/wp_2jerat/lahojadearena.com/wp-content/plugins/wp-optimize-by-xtraffic/Application/Service/OptimizeLinks.php
on line
815
Warning
: Invalid argument supplied for foreach() in
/home/wp_2jerat/lahojadearena.com/wp-content/plugins/wp-optimize-by-xtraffic/Application/Service/OptimizeLinks.php
on line
815
Warning
: Invalid argument supplied for foreach() in
/home/wp_2jerat/lahojadearena.com/wp-content/plugins/wp-optimize-by-xtraffic/Application/Service/OptimizeLinks.php
on line
815
Warning
: Invalid argument supplied for foreach() in
/home/wp_2jerat/lahojadearena.com/wp-content/plugins/wp-optimize-by-xtraffic/Application/Service/OptimizeLinks.php
on line
815
Warning
: Invalid argument supplied for foreach() in
/home/wp_2jerat/lahojadearena.com/wp-content/plugins/wp-optimize-by-xtraffic/Application/Service/OptimizeLinks.php
on line
815
Warning
: Invalid argument supplied for foreach() in
/home/wp_2jerat/lahojadearena.com/wp-content/plugins/wp-optimize-by-xtraffic/Application/Service/OptimizeLinks.php
on line
815
Warning
: Invalid argument supplied for foreach() in
/home/wp_2jerat/lahojadearena.com/wp-content/plugins/wp-optimize-by-xtraffic/Application/Service/OptimizeLinks.php
on line
815
Warning
: Invalid argument supplied for foreach() in
/home/wp_2jerat/lahojadearena.com/wp-content/plugins/wp-optimize-by-xtraffic/Application/Service/OptimizeLinks.php
on line
815
Warning
: Invalid argument supplied for foreach() in
/home/wp_2jerat/lahojadearena.com/wp-content/plugins/wp-optimize-by-xtraffic/Application/Service/OptimizeLinks.php
on line
815
Warning
: Invalid argument supplied for foreach() in
/home/wp_2jerat/lahojadearena.com/wp-content/plugins/wp-optimize-by-xtraffic/Application/Service/OptimizeLinks.php
on line
815
Warning
: Invalid argument supplied for foreach() in
/home/wp_2jerat/lahojadearena.com/wp-content/plugins/wp-optimize-by-xtraffic/Application/Service/OptimizeLinks.php
on line
815
Warning
: Invalid argument supplied for foreach() in
/home/wp_2jerat/lahojadearena.com/wp-content/plugins/wp-optimize-by-xtraffic/Application/Service/OptimizeLinks.php
on line
815
Warning
: Invalid argument supplied for foreach() in
/home/wp_2jerat/lahojadearena.com/wp-content/plugins/wp-optimize-by-xtraffic/Application/Service/OptimizeLinks.php
on line
815
Warning
: Invalid argument supplied for foreach() in
/home/wp_2jerat/lahojadearena.com/wp-content/plugins/wp-optimize-by-xtraffic/Application/Service/OptimizeLinks.php
on line
815
Warning
: Invalid argument supplied for foreach() in
/home/wp_2jerat/lahojadearena.com/wp-content/plugins/wp-optimize-by-xtraffic/Application/Service/OptimizeLinks.php
on line
815
Warning
: Invalid argument supplied for foreach() in
/home/wp_2jerat/lahojadearena.com/wp-content/plugins/wp-optimize-by-xtraffic/Application/Service/OptimizeLinks.php
on line
815
Warning
: Invalid argument supplied for foreach() in
/home/wp_2jerat/lahojadearena.com/wp-content/plugins/wp-optimize-by-xtraffic/Application/Service/OptimizeLinks.php
on line
815
Warning
: Invalid argument supplied for foreach() in
/home/wp_2jerat/lahojadearena.com/wp-content/plugins/wp-optimize-by-xtraffic/Application/Service/OptimizeLinks.php
on line
815
Warning
: Invalid argument supplied for foreach() in
/home/wp_2jerat/lahojadearena.com/wp-content/plugins/wp-optimize-by-xtraffic/Application/Service/OptimizeLinks.php
on line
815
Warning
: Invalid argument supplied for foreach() in
/home/wp_2jerat/lahojadearena.com/wp-content/plugins/wp-optimize-by-xtraffic/Application/Service/OptimizeLinks.php
on line
815
Warning
: Invalid argument supplied for foreach() in
/home/wp_2jerat/lahojadearena.com/wp-content/plugins/wp-optimize-by-xtraffic/Application/Service/OptimizeLinks.php
on line
815
Warning
: Invalid argument supplied for foreach() in
/home/wp_2jerat/lahojadearena.com/wp-content/plugins/wp-optimize-by-xtraffic/Application/Service/OptimizeLinks.php
on line
815
Warning
: Invalid argument supplied for foreach() in
/home/wp_2jerat/lahojadearena.com/wp-content/plugins/wp-optimize-by-xtraffic/Application/Service/OptimizeLinks.php
on line
815
Warning
: Invalid argument supplied for foreach() in
/home/wp_2jerat/lahojadearena.com/wp-content/plugins/wp-optimize-by-xtraffic/Application/Service/OptimizeLinks.php
on line
815
Warning
: Invalid argument supplied for foreach() in
/home/wp_2jerat/lahojadearena.com/wp-content/plugins/wp-optimize-by-xtraffic/Application/Service/OptimizeLinks.php
on line
815
Warning
: Invalid argument supplied for foreach() in
/home/wp_2jerat/lahojadearena.com/wp-content/plugins/wp-optimize-by-xtraffic/Application/Service/OptimizeLinks.php
on line
815
Warning
: Invalid argument supplied for foreach() in
/home/wp_2jerat/lahojadearena.com/wp-content/plugins/wp-optimize-by-xtraffic/Application/Service/OptimizeLinks.php
on line
815
Warning
: Invalid argument supplied for foreach() in
/home/wp_2jerat/lahojadearena.com/wp-content/plugins/wp-optimize-by-xtraffic/Application/Service/OptimizeLinks.php
on line
815
Warning
: Invalid argument supplied for foreach() in
/home/wp_2jerat/lahojadearena.com/wp-content/plugins/wp-optimize-by-xtraffic/Application/Service/OptimizeLinks.php
on line
815
Warning
: Invalid argument supplied for foreach() in
/home/wp_2jerat/lahojadearena.com/wp-content/plugins/wp-optimize-by-xtraffic/Application/Service/OptimizeLinks.php
on line
815
Warning
: Invalid argument supplied for foreach() in
/home/wp_2jerat/lahojadearena.com/wp-content/plugins/wp-optimize-by-xtraffic/Application/Service/OptimizeLinks.php
on line
815
Warning
: Invalid argument supplied for foreach() in
/home/wp_2jerat/lahojadearena.com/wp-content/plugins/wp-optimize-by-xtraffic/Application/Service/OptimizeLinks.php
on line
815
Warning
: Invalid argument supplied for foreach() in
/home/wp_2jerat/lahojadearena.com/wp-content/plugins/wp-optimize-by-xtraffic/Application/Service/OptimizeLinks.php
on line
815
Warning
: Invalid argument supplied for foreach() in
/home/wp_2jerat/lahojadearena.com/wp-content/plugins/wp-optimize-by-xtraffic/Application/Service/OptimizeLinks.php
on line
815
Warning
: Invalid argument supplied for foreach() in
/home/wp_2jerat/lahojadearena.com/wp-content/plugins/wp-optimize-by-xtraffic/Application/Service/OptimizeLinks.php
on line
815
Warning
: Invalid argument supplied for foreach() in
/home/wp_2jerat/lahojadearena.com/wp-content/plugins/wp-optimize-by-xtraffic/Application/Service/OptimizeLinks.php
on line
815
Warning
: Invalid argument supplied for foreach() in
/home/wp_2jerat/lahojadearena.com/wp-content/plugins/wp-optimize-by-xtraffic/Application/Service/OptimizeLinks.php
on line
815
Warning
: Invalid argument supplied for foreach() in
/home/wp_2jerat/lahojadearena.com/wp-content/plugins/wp-optimize-by-xtraffic/Application/Service/OptimizeLinks.php
on line
815
Warning
: Invalid argument supplied for foreach() in
/home/wp_2jerat/lahojadearena.com/wp-content/plugins/wp-optimize-by-xtraffic/Application/Service/OptimizeLinks.php
on line
815
Warning
: Invalid argument supplied for foreach() in
/home/wp_2jerat/lahojadearena.com/wp-content/plugins/wp-optimize-by-xtraffic/Application/Service/OptimizeLinks.php
on line
815
Warning
: Invalid argument supplied for foreach() in
/home/wp_2jerat/lahojadearena.com/wp-content/plugins/wp-optimize-by-xtraffic/Application/Service/OptimizeLinks.php
on line
815
Warning
: Invalid argument supplied for foreach() in
/home/wp_2jerat/lahojadearena.com/wp-content/plugins/wp-optimize-by-xtraffic/Application/Service/OptimizeLinks.php
on line
815
Warning
: Invalid argument supplied for foreach() in
/home/wp_2jerat/lahojadearena.com/wp-content/plugins/wp-optimize-by-xtraffic/Application/Service/OptimizeLinks.php
on line
815
Warning
: Invalid argument supplied for foreach() in
/home/wp_2jerat/lahojadearena.com/wp-content/plugins/wp-optimize-by-xtraffic/Application/Service/OptimizeLinks.php
on line
815
Warning
: Invalid argument supplied for foreach() in
/home/wp_2jerat/lahojadearena.com/wp-content/plugins/wp-optimize-by-xtraffic/Application/Service/OptimizeLinks.php
on line
815
Warning
: Invalid argument supplied for foreach() in
/home/wp_2jerat/lahojadearena.com/wp-content/plugins/wp-optimize-by-xtraffic/Application/Service/OptimizeLinks.php
on line
815
Warning
: Invalid argument supplied for foreach() in
/home/wp_2jerat/lahojadearena.com/wp-content/plugins/wp-optimize-by-xtraffic/Application/Service/OptimizeLinks.php
on line
815
Warning
: Invalid argument supplied for foreach() in
/home/wp_2jerat/lahojadearena.com/wp-content/plugins/wp-optimize-by-xtraffic/Application/Service/OptimizeLinks.php
on line
815
Warning
: Invalid argument supplied for foreach() in
/home/wp_2jerat/lahojadearena.com/wp-content/plugins/wp-optimize-by-xtraffic/Application/Service/OptimizeLinks.php
on line
815
Warning
: Invalid argument supplied for foreach() in
/home/wp_2jerat/lahojadearena.com/wp-content/plugins/wp-optimize-by-xtraffic/Application/Service/OptimizeLinks.php
on line
815
Warning
: Invalid argument supplied for foreach() in
/home/wp_2jerat/lahojadearena.com/wp-content/plugins/wp-optimize-by-xtraffic/Application/Service/OptimizeLinks.php
on line
815
Warning
: Invalid argument supplied for foreach() in
/home/wp_2jerat/lahojadearena.com/wp-content/plugins/wp-optimize-by-xtraffic/Application/Service/OptimizeLinks.php
on line
815
Warning
: Invalid argument supplied for foreach() in
/home/wp_2jerat/lahojadearena.com/wp-content/plugins/wp-optimize-by-xtraffic/Application/Service/OptimizeLinks.php
on line
815
Warning
: Invalid argument supplied for foreach() in
/home/wp_2jerat/lahojadearena.com/wp-content/plugins/wp-optimize-by-xtraffic/Application/Service/OptimizeLinks.php
on line
815
Warning
: Invalid argument supplied for foreach() in
/home/wp_2jerat/lahojadearena.com/wp-content/plugins/wp-optimize-by-xtraffic/Application/Service/OptimizeLinks.php
on line
815
Warning
: Invalid argument supplied for foreach() in
/home/wp_2jerat/lahojadearena.com/wp-content/plugins/wp-optimize-by-xtraffic/Application/Service/OptimizeLinks.php
on line
815
Warning
: Invalid argument supplied for foreach() in
/home/wp_2jerat/lahojadearena.com/wp-content/plugins/wp-optimize-by-xtraffic/Application/Service/OptimizeLinks.php
on line
815
Warning
: Invalid argument supplied for foreach() in
/home/wp_2jerat/lahojadearena.com/wp-content/plugins/wp-optimize-by-xtraffic/Application/Service/OptimizeLinks.php
on line
815
Warning
: Invalid argument supplied for foreach() in
/home/wp_2jerat/lahojadearena.com/wp-content/plugins/wp-optimize-by-xtraffic/Application/Service/OptimizeLinks.php
on line
815
Warning
: Invalid argument supplied for foreach() in
/home/wp_2jerat/lahojadearena.com/wp-content/plugins/wp-optimize-by-xtraffic/Application/Service/OptimizeLinks.php
on line
815
Warning
: Invalid argument supplied for foreach() in
/home/wp_2jerat/lahojadearena.com/wp-content/plugins/wp-optimize-by-xtraffic/Application/Service/OptimizeLinks.php
on line
815
Warning
: Invalid argument supplied for foreach() in
/home/wp_2jerat/lahojadearena.com/wp-content/plugins/wp-optimize-by-xtraffic/Application/Service/OptimizeLinks.php
on line
815
Warning
: Invalid argument supplied for foreach() in
/home/wp_2jerat/lahojadearena.com/wp-content/plugins/wp-optimize-by-xtraffic/Application/Service/OptimizeLinks.php
on line
815
Warning
: Invalid argument supplied for foreach() in
/home/wp_2jerat/lahojadearena.com/wp-content/plugins/wp-optimize-by-xtraffic/Application/Service/OptimizeLinks.php
on line
815
Warning
: Invalid argument supplied for foreach() in
/home/wp_2jerat/lahojadearena.com/wp-content/plugins/wp-optimize-by-xtraffic/Application/Service/OptimizeLinks.php
on line
815
Warning
: Invalid argument supplied for foreach() in
/home/wp_2jerat/lahojadearena.com/wp-content/plugins/wp-optimize-by-xtraffic/Application/Service/OptimizeLinks.php
on line
815
Warning
: Invalid argument supplied for foreach() in
/home/wp_2jerat/lahojadearena.com/wp-content/plugins/wp-optimize-by-xtraffic/Application/Service/OptimizeLinks.php
on line
815
Warning
: Invalid argument supplied for foreach() in
/home/wp_2jerat/lahojadearena.com/wp-content/plugins/wp-optimize-by-xtraffic/Application/Service/OptimizeLinks.php
on line
815
Warning
: Invalid argument supplied for foreach() in
/home/wp_2jerat/lahojadearena.com/wp-content/plugins/wp-optimize-by-xtraffic/Application/Service/OptimizeLinks.php
on line
815
Warning
: Invalid argument supplied for foreach() in
/home/wp_2jerat/lahojadearena.com/wp-content/plugins/wp-optimize-by-xtraffic/Application/Service/OptimizeLinks.php
on line
815
Warning
: Invalid argument supplied for foreach() in
/home/wp_2jerat/lahojadearena.com/wp-content/plugins/wp-optimize-by-xtraffic/Application/Service/OptimizeLinks.php
on line
815
Warning
: Invalid argument supplied for foreach() in
/home/wp_2jerat/lahojadearena.com/wp-content/plugins/wp-optimize-by-xtraffic/Application/Service/OptimizeLinks.php
on line
815
Warning
: Invalid argument supplied for foreach() in
/home/wp_2jerat/lahojadearena.com/wp-content/plugins/wp-optimize-by-xtraffic/Application/Service/OptimizeLinks.php
on line
815
Warning
: Invalid argument supplied for foreach() in
/home/wp_2jerat/lahojadearena.com/wp-content/plugins/wp-optimize-by-xtraffic/Application/Service/OptimizeLinks.php
on line
815
Warning
: Invalid argument supplied for foreach() in
/home/wp_2jerat/lahojadearena.com/wp-content/plugins/wp-optimize-by-xtraffic/Application/Service/OptimizeLinks.php
on line
815
Warning
: Invalid argument supplied for foreach() in
/home/wp_2jerat/lahojadearena.com/wp-content/plugins/wp-optimize-by-xtraffic/Application/Service/OptimizeLinks.php
on line
815
Warning
: Invalid argument supplied for foreach() in
/home/wp_2jerat/lahojadearena.com/wp-content/plugins/wp-optimize-by-xtraffic/Application/Service/OptimizeLinks.php
on line
815
Warning
: Invalid argument supplied for foreach() in
/home/wp_2jerat/lahojadearena.com/wp-content/plugins/wp-optimize-by-xtraffic/Application/Service/OptimizeLinks.php
on line
815
Warning
: Invalid argument supplied for foreach() in
/home/wp_2jerat/lahojadearena.com/wp-content/plugins/wp-optimize-by-xtraffic/Application/Service/OptimizeLinks.php
on line
815
Warning
: Invalid argument supplied for foreach() in
/home/wp_2jerat/lahojadearena.com/wp-content/plugins/wp-optimize-by-xtraffic/Application/Service/OptimizeLinks.php
on line
815
Warning
: Invalid argument supplied for foreach() in
/home/wp_2jerat/lahojadearena.com/wp-content/plugins/wp-optimize-by-xtraffic/Application/Service/OptimizeLinks.php
on line
815
Warning
: Invalid argument supplied for foreach() in
/home/wp_2jerat/lahojadearena.com/wp-content/plugins/wp-optimize-by-xtraffic/Application/Service/OptimizeLinks.php
on line
815
Warning
: Invalid argument supplied for foreach() in
/home/wp_2jerat/lahojadearena.com/wp-content/plugins/wp-optimize-by-xtraffic/Application/Service/OptimizeLinks.php
on line
815
Warning
: Invalid argument supplied for foreach() in
/home/wp_2jerat/lahojadearena.com/wp-content/plugins/wp-optimize-by-xtraffic/Application/Service/OptimizeLinks.php
on line
815
Warning
: Invalid argument supplied for foreach() in
/home/wp_2jerat/lahojadearena.com/wp-content/plugins/wp-optimize-by-xtraffic/Application/Service/OptimizeLinks.php
on line
815
Warning
: Invalid argument supplied for foreach() in
/home/wp_2jerat/lahojadearena.com/wp-content/plugins/wp-optimize-by-xtraffic/Application/Service/OptimizeLinks.php
on line
815
Warning
: Invalid argument supplied for foreach() in
/home/wp_2jerat/lahojadearena.com/wp-content/plugins/wp-optimize-by-xtraffic/Application/Service/OptimizeLinks.php
on line
815
Warning
: Invalid argument supplied for foreach() in
/home/wp_2jerat/lahojadearena.com/wp-content/plugins/wp-optimize-by-xtraffic/Application/Service/OptimizeLinks.php
on line
815
Warning
: Invalid argument supplied for foreach() in
/home/wp_2jerat/lahojadearena.com/wp-content/plugins/wp-optimize-by-xtraffic/Application/Service/OptimizeLinks.php
on line
815
Warning
: Invalid argument supplied for foreach() in
/home/wp_2jerat/lahojadearena.com/wp-content/plugins/wp-optimize-by-xtraffic/Application/Service/OptimizeLinks.php
on line
815
Warning
: Invalid argument supplied for foreach() in
/home/wp_2jerat/lahojadearena.com/wp-content/plugins/wp-optimize-by-xtraffic/Application/Service/OptimizeLinks.php
on line
815
Warning
: Invalid argument supplied for foreach() in
/home/wp_2jerat/lahojadearena.com/wp-content/plugins/wp-optimize-by-xtraffic/Application/Service/OptimizeLinks.php
on line
815
Warning
: Invalid argument supplied for foreach() in
/home/wp_2jerat/lahojadearena.com/wp-content/plugins/wp-optimize-by-xtraffic/Application/Service/OptimizeLinks.php
on line
815
Warning
: Invalid argument supplied for foreach() in
/home/wp_2jerat/lahojadearena.com/wp-content/plugins/wp-optimize-by-xtraffic/Application/Service/OptimizeLinks.php
on line
815
Warning
: Invalid argument supplied for foreach() in
/home/wp_2jerat/lahojadearena.com/wp-content/plugins/wp-optimize-by-xtraffic/Application/Service/OptimizeLinks.php
on line
815
Warning
: Invalid argument supplied for foreach() in
/home/wp_2jerat/lahojadearena.com/wp-content/plugins/wp-optimize-by-xtraffic/Application/Service/OptimizeLinks.php
on line
815
Warning
: Invalid argument supplied for foreach() in
/home/wp_2jerat/lahojadearena.com/wp-content/plugins/wp-optimize-by-xtraffic/Application/Service/OptimizeLinks.php
on line
815
Warning
: Invalid argument supplied for foreach() in
/home/wp_2jerat/lahojadearena.com/wp-content/plugins/wp-optimize-by-xtraffic/Application/Service/OptimizeLinks.php
on line
815
Warning
: Invalid argument supplied for foreach() in
/home/wp_2jerat/lahojadearena.com/wp-content/plugins/wp-optimize-by-xtraffic/Application/Service/OptimizeLinks.php
on line
815
Warning
: Invalid argument supplied for foreach() in
/home/wp_2jerat/lahojadearena.com/wp-content/plugins/wp-optimize-by-xtraffic/Application/Service/OptimizeLinks.php
on line
815
Warning
: Invalid argument supplied for foreach() in
/home/wp_2jerat/lahojadearena.com/wp-content/plugins/wp-optimize-by-xtraffic/Application/Service/OptimizeLinks.php
on line
815
Warning
: Invalid argument supplied for foreach() in
/home/wp_2jerat/lahojadearena.com/wp-content/plugins/wp-optimize-by-xtraffic/Application/Service/OptimizeLinks.php
on line
815
Warning
: Invalid argument supplied for foreach() in
/home/wp_2jerat/lahojadearena.com/wp-content/plugins/wp-optimize-by-xtraffic/Application/Service/OptimizeLinks.php
on line
815
Warning
: Invalid argument supplied for foreach() in
/home/wp_2jerat/lahojadearena.com/wp-content/plugins/wp-optimize-by-xtraffic/Application/Service/OptimizeLinks.php
on line
815
Warning
: Invalid argument supplied for foreach() in
/home/wp_2jerat/lahojadearena.com/wp-content/plugins/wp-optimize-by-xtraffic/Application/Service/OptimizeLinks.php
on line
815
Warning
: Invalid argument supplied for foreach() in
/home/wp_2jerat/lahojadearena.com/wp-content/plugins/wp-optimize-by-xtraffic/Application/Service/OptimizeLinks.php
on line
815
Warning
: Invalid argument supplied for foreach() in
/home/wp_2jerat/lahojadearena.com/wp-content/plugins/wp-optimize-by-xtraffic/Application/Service/OptimizeLinks.php
on line
815
Warning
: Invalid argument supplied for foreach() in
/home/wp_2jerat/lahojadearena.com/wp-content/plugins/wp-optimize-by-xtraffic/Application/Service/OptimizeLinks.php
on line
815
Warning
: Invalid argument supplied for foreach() in
/home/wp_2jerat/lahojadearena.com/wp-content/plugins/wp-optimize-by-xtraffic/Application/Service/OptimizeLinks.php
on line
815
Warning
: Invalid argument supplied for foreach() in
/home/wp_2jerat/lahojadearena.com/wp-content/plugins/wp-optimize-by-xtraffic/Application/Service/OptimizeLinks.php
on line
815
Warning
: Invalid argument supplied for foreach() in
/home/wp_2jerat/lahojadearena.com/wp-content/plugins/wp-optimize-by-xtraffic/Application/Service/OptimizeLinks.php
on line
815
Warning
: Invalid argument supplied for foreach() in
/home/wp_2jerat/lahojadearena.com/wp-content/plugins/wp-optimize-by-xtraffic/Application/Service/OptimizeLinks.php
on line
815
Warning
: Invalid argument supplied for foreach() in
/home/wp_2jerat/lahojadearena.com/wp-content/plugins/wp-optimize-by-xtraffic/Application/Service/OptimizeLinks.php
on line
815
Warning
: Invalid argument supplied for foreach() in
/home/wp_2jerat/lahojadearena.com/wp-content/plugins/wp-optimize-by-xtraffic/Application/Service/OptimizeLinks.php
on line
815
Warning
: Invalid argument supplied for foreach() in
/home/wp_2jerat/lahojadearena.com/wp-content/plugins/wp-optimize-by-xtraffic/Application/Service/OptimizeLinks.php
on line
815
Warning
: Invalid argument supplied for foreach() in
/home/wp_2jerat/lahojadearena.com/wp-content/plugins/wp-optimize-by-xtraffic/Application/Service/OptimizeLinks.php
on line
815
Warning
: Invalid argument supplied for foreach() in
/home/wp_2jerat/lahojadearena.com/wp-content/plugins/wp-optimize-by-xtraffic/Application/Service/OptimizeLinks.php
on line
815
Warning
: Invalid argument supplied for foreach() in
/home/wp_2jerat/lahojadearena.com/wp-content/plugins/wp-optimize-by-xtraffic/Application/Service/OptimizeLinks.php
on line
815
Warning
: Invalid argument supplied for foreach() in
/home/wp_2jerat/lahojadearena.com/wp-content/plugins/wp-optimize-by-xtraffic/Application/Service/OptimizeLinks.php
on line
815
Warning
: Invalid argument supplied for foreach() in
/home/wp_2jerat/lahojadearena.com/wp-content/plugins/wp-optimize-by-xtraffic/Application/Service/OptimizeLinks.php
on line
815
Warning
: Invalid argument supplied for foreach() in
/home/wp_2jerat/lahojadearena.com/wp-content/plugins/wp-optimize-by-xtraffic/Application/Service/OptimizeLinks.php
on line
815
Warning
: Invalid argument supplied for foreach() in
/home/wp_2jerat/lahojadearena.com/wp-content/plugins/wp-optimize-by-xtraffic/Application/Service/OptimizeLinks.php
on line
815
Warning
: Invalid argument supplied for foreach() in
/home/wp_2jerat/lahojadearena.com/wp-content/plugins/wp-optimize-by-xtraffic/Application/Service/OptimizeLinks.php
on line
815
Warning
: Invalid argument supplied for foreach() in
/home/wp_2jerat/lahojadearena.com/wp-content/plugins/wp-optimize-by-xtraffic/Application/Service/OptimizeLinks.php
on line
815
Warning
: Invalid argument supplied for foreach() in
/home/wp_2jerat/lahojadearena.com/wp-content/plugins/wp-optimize-by-xtraffic/Application/Service/OptimizeLinks.php
on line
815
Warning
: Invalid argument supplied for foreach() in
/home/wp_2jerat/lahojadearena.com/wp-content/plugins/wp-optimize-by-xtraffic/Application/Service/OptimizeLinks.php
on line
815
Warning
: Invalid argument supplied for foreach() in
/home/wp_2jerat/lahojadearena.com/wp-content/plugins/wp-optimize-by-xtraffic/Application/Service/OptimizeLinks.php
on line
815
Warning
: Invalid argument supplied for foreach() in
/home/wp_2jerat/lahojadearena.com/wp-content/plugins/wp-optimize-by-xtraffic/Application/Service/OptimizeLinks.php
on line
815
Warning
: Invalid argument supplied for foreach() in
/home/wp_2jerat/lahojadearena.com/wp-content/plugins/wp-optimize-by-xtraffic/Application/Service/OptimizeLinks.php
on line
815
Warning
: Invalid argument supplied for foreach() in
/home/wp_2jerat/lahojadearena.com/wp-content/plugins/wp-optimize-by-xtraffic/Application/Service/OptimizeLinks.php
on line
815
Warning
: Invalid argument supplied for foreach() in
/home/wp_2jerat/lahojadearena.com/wp-content/plugins/wp-optimize-by-xtraffic/Application/Service/OptimizeLinks.php
on line
815
Warning
: Invalid argument supplied for foreach() in
/home/wp_2jerat/lahojadearena.com/wp-content/plugins/wp-optimize-by-xtraffic/Application/Service/OptimizeLinks.php
on line
815
Warning
: Invalid argument supplied for foreach() in
/home/wp_2jerat/lahojadearena.com/wp-content/plugins/wp-optimize-by-xtraffic/Application/Service/OptimizeLinks.php
on line
815
Warning
: Invalid argument supplied for foreach() in
/home/wp_2jerat/lahojadearena.com/wp-content/plugins/wp-optimize-by-xtraffic/Application/Service/OptimizeLinks.php
on line
815
Warning
: Invalid argument supplied for foreach() in
/home/wp_2jerat/lahojadearena.com/wp-content/plugins/wp-optimize-by-xtraffic/Application/Service/OptimizeLinks.php
on line
815
Warning
: Invalid argument supplied for foreach() in
/home/wp_2jerat/lahojadearena.com/wp-content/plugins/wp-optimize-by-xtraffic/Application/Service/OptimizeLinks.php
on line
815
Warning
: Invalid argument supplied for foreach() in
/home/wp_2jerat/lahojadearena.com/wp-content/plugins/wp-optimize-by-xtraffic/Application/Service/OptimizeLinks.php
on line
815
Warning
: Invalid argument supplied for foreach() in
/home/wp_2jerat/lahojadearena.com/wp-content/plugins/wp-optimize-by-xtraffic/Application/Service/OptimizeLinks.php
on line
815
Warning
: Invalid argument supplied for foreach() in
/home/wp_2jerat/lahojadearena.com/wp-content/plugins/wp-optimize-by-xtraffic/Application/Service/OptimizeLinks.php
on line
815
Warning
: Invalid argument supplied for foreach() in
/home/wp_2jerat/lahojadearena.com/wp-content/plugins/wp-optimize-by-xtraffic/Application/Service/OptimizeLinks.php
on line
815
Warning
: Invalid argument supplied for foreach() in
/home/wp_2jerat/lahojadearena.com/wp-content/plugins/wp-optimize-by-xtraffic/Application/Service/OptimizeLinks.php
on line
815
Warning
: Invalid argument supplied for foreach() in
/home/wp_2jerat/lahojadearena.com/wp-content/plugins/wp-optimize-by-xtraffic/Application/Service/OptimizeLinks.php
on line
815
Warning
: Invalid argument supplied for foreach() in
/home/wp_2jerat/lahojadearena.com/wp-content/plugins/wp-optimize-by-xtraffic/Application/Service/OptimizeLinks.php
on line
815
Warning
: Invalid argument supplied for foreach() in
/home/wp_2jerat/lahojadearena.com/wp-content/plugins/wp-optimize-by-xtraffic/Application/Service/OptimizeLinks.php
on line
815
Warning
: Invalid argument supplied for foreach() in
/home/wp_2jerat/lahojadearena.com/wp-content/plugins/wp-optimize-by-xtraffic/Application/Service/OptimizeLinks.php
on line
815
Warning
: Invalid argument supplied for foreach() in
/home/wp_2jerat/lahojadearena.com/wp-content/plugins/wp-optimize-by-xtraffic/Application/Service/OptimizeLinks.php
on line
815
Warning
: Invalid argument supplied for foreach() in
/home/wp_2jerat/lahojadearena.com/wp-content/plugins/wp-optimize-by-xtraffic/Application/Service/OptimizeLinks.php
on line
815
Warning
: Invalid argument supplied for foreach() in
/home/wp_2jerat/lahojadearena.com/wp-content/plugins/wp-optimize-by-xtraffic/Application/Service/OptimizeLinks.php
on line
815
Warning
: Invalid argument supplied for foreach() in
/home/wp_2jerat/lahojadearena.com/wp-content/plugins/wp-optimize-by-xtraffic/Application/Service/OptimizeLinks.php
on line
815
Warning
: Invalid argument supplied for foreach() in
/home/wp_2jerat/lahojadearena.com/wp-content/plugins/wp-optimize-by-xtraffic/Application/Service/OptimizeLinks.php
on line
815
Warning
: Invalid argument supplied for foreach() in
/home/wp_2jerat/lahojadearena.com/wp-content/plugins/wp-optimize-by-xtraffic/Application/Service/OptimizeLinks.php
on line
815
Warning
: Invalid argument supplied for foreach() in
/home/wp_2jerat/lahojadearena.com/wp-content/plugins/wp-optimize-by-xtraffic/Application/Service/OptimizeLinks.php
on line
815
Warning
: Invalid argument supplied for foreach() in
/home/wp_2jerat/lahojadearena.com/wp-content/plugins/wp-optimize-by-xtraffic/Application/Service/OptimizeLinks.php
on line
815
Warning
: Invalid argument supplied for foreach() in
/home/wp_2jerat/lahojadearena.com/wp-content/plugins/wp-optimize-by-xtraffic/Application/Service/OptimizeLinks.php
on line
815
Warning
: Invalid argument supplied for foreach() in
/home/wp_2jerat/lahojadearena.com/wp-content/plugins/wp-optimize-by-xtraffic/Application/Service/OptimizeLinks.php
on line
815
Warning
: Invalid argument supplied for foreach() in
/home/wp_2jerat/lahojadearena.com/wp-content/plugins/wp-optimize-by-xtraffic/Application/Service/OptimizeLinks.php
on line
815
Warning
: Invalid argument supplied for foreach() in
/home/wp_2jerat/lahojadearena.com/wp-content/plugins/wp-optimize-by-xtraffic/Application/Service/OptimizeLinks.php
on line
815
Warning
: Invalid argument supplied for foreach() in
/home/wp_2jerat/lahojadearena.com/wp-content/plugins/wp-optimize-by-xtraffic/Application/Service/OptimizeLinks.php
on line
815
Warning
: Invalid argument supplied for foreach() in
/home/wp_2jerat/lahojadearena.com/wp-content/plugins/wp-optimize-by-xtraffic/Application/Service/OptimizeLinks.php
on line
815
Warning
: Invalid argument supplied for foreach() in
/home/wp_2jerat/lahojadearena.com/wp-content/plugins/wp-optimize-by-xtraffic/Application/Service/OptimizeLinks.php
on line
815
Warning
: Invalid argument supplied for foreach() in
/home/wp_2jerat/lahojadearena.com/wp-content/plugins/wp-optimize-by-xtraffic/Application/Service/OptimizeLinks.php
on line
815
Warning
: Invalid argument supplied for foreach() in
/home/wp_2jerat/lahojadearena.com/wp-content/plugins/wp-optimize-by-xtraffic/Application/Service/OptimizeLinks.php
on line
815
Warning
: Invalid argument supplied for foreach() in
/home/wp_2jerat/lahojadearena.com/wp-content/plugins/wp-optimize-by-xtraffic/Application/Service/OptimizeLinks.php
on line
815
Warning
: Invalid argument supplied for foreach() in
/home/wp_2jerat/lahojadearena.com/wp-content/plugins/wp-optimize-by-xtraffic/Application/Service/OptimizeLinks.php
on line
815
Warning
: Invalid argument supplied for foreach() in
/home/wp_2jerat/lahojadearena.com/wp-content/plugins/wp-optimize-by-xtraffic/Application/Service/OptimizeLinks.php
on line
815
Warning
: Invalid argument supplied for foreach() in
/home/wp_2jerat/lahojadearena.com/wp-content/plugins/wp-optimize-by-xtraffic/Application/Service/OptimizeLinks.php
on line
815
Warning
: Invalid argument supplied for foreach() in
/home/wp_2jerat/lahojadearena.com/wp-content/plugins/wp-optimize-by-xtraffic/Application/Service/OptimizeLinks.php
on line
815
Warning
: Invalid argument supplied for foreach() in
/home/wp_2jerat/lahojadearena.com/wp-content/plugins/wp-optimize-by-xtraffic/Application/Service/OptimizeLinks.php
on line
815
Warning
: Invalid argument supplied for foreach() in
/home/wp_2jerat/lahojadearena.com/wp-content/plugins/wp-optimize-by-xtraffic/Application/Service/OptimizeLinks.php
on line
815
Warning
: Invalid argument supplied for foreach() in
/home/wp_2jerat/lahojadearena.com/wp-content/plugins/wp-optimize-by-xtraffic/Application/Service/OptimizeLinks.php
on line
815
Warning
: Invalid argument supplied for foreach() in
/home/wp_2jerat/lahojadearena.com/wp-content/plugins/wp-optimize-by-xtraffic/Application/Service/OptimizeLinks.php
on line
815
Warning
: Invalid argument supplied for foreach() in
/home/wp_2jerat/lahojadearena.com/wp-content/plugins/wp-optimize-by-xtraffic/Application/Service/OptimizeLinks.php
on line
815
Warning
: Invalid argument supplied for foreach() in
/home/wp_2jerat/lahojadearena.com/wp-content/plugins/wp-optimize-by-xtraffic/Application/Service/OptimizeLinks.php
on line
815
Warning
: Invalid argument supplied for foreach() in
/home/wp_2jerat/lahojadearena.com/wp-content/plugins/wp-optimize-by-xtraffic/Application/Service/OptimizeLinks.php
on line
815
Warning
: Invalid argument supplied for foreach() in
/home/wp_2jerat/lahojadearena.com/wp-content/plugins/wp-optimize-by-xtraffic/Application/Service/OptimizeLinks.php
on line
815
Warning
: Invalid argument supplied for foreach() in
/home/wp_2jerat/lahojadearena.com/wp-content/plugins/wp-optimize-by-xtraffic/Application/Service/OptimizeLinks.php
on line
815
Warning
: Invalid argument supplied for foreach() in
/home/wp_2jerat/lahojadearena.com/wp-content/plugins/wp-optimize-by-xtraffic/Application/Service/OptimizeLinks.php
on line
815
Warning
: Invalid argument supplied for foreach() in
/home/wp_2jerat/lahojadearena.com/wp-content/plugins/wp-optimize-by-xtraffic/Application/Service/OptimizeLinks.php
on line
815
Warning
: Invalid argument supplied for foreach() in
/home/wp_2jerat/lahojadearena.com/wp-content/plugins/wp-optimize-by-xtraffic/Application/Service/OptimizeLinks.php
on line
815
Warning
: Invalid argument supplied for foreach() in
/home/wp_2jerat/lahojadearena.com/wp-content/plugins/wp-optimize-by-xtraffic/Application/Service/OptimizeLinks.php
on line
815
Warning
: Invalid argument supplied for foreach() in
/home/wp_2jerat/lahojadearena.com/wp-content/plugins/wp-optimize-by-xtraffic/Application/Service/OptimizeLinks.php
on line
815
Warning
: Invalid argument supplied for foreach() in
/home/wp_2jerat/lahojadearena.com/wp-content/plugins/wp-optimize-by-xtraffic/Application/Service/OptimizeLinks.php
on line
815
Warning
: Invalid argument supplied for foreach() in
/home/wp_2jerat/lahojadearena.com/wp-content/plugins/wp-optimize-by-xtraffic/Application/Service/OptimizeLinks.php
on line
815
Warning
: Invalid argument supplied for foreach() in
/home/wp_2jerat/lahojadearena.com/wp-content/plugins/wp-optimize-by-xtraffic/Application/Service/OptimizeLinks.php
on line
815
Warning
: Invalid argument supplied for foreach() in
/home/wp_2jerat/lahojadearena.com/wp-content/plugins/wp-optimize-by-xtraffic/Application/Service/OptimizeLinks.php
on line
815
Warning
: Invalid argument supplied for foreach() in
/home/wp_2jerat/lahojadearena.com/wp-content/plugins/wp-optimize-by-xtraffic/Application/Service/OptimizeLinks.php
on line
815
Warning
: Invalid argument supplied for foreach() in
/home/wp_2jerat/lahojadearena.com/wp-content/plugins/wp-optimize-by-xtraffic/Application/Service/OptimizeLinks.php
on line
815
Warning
: Invalid argument supplied for foreach() in
/home/wp_2jerat/lahojadearena.com/wp-content/plugins/wp-optimize-by-xtraffic/Application/Service/OptimizeLinks.php
on line
815
Warning
: Invalid argument supplied for foreach() in
/home/wp_2jerat/lahojadearena.com/wp-content/plugins/wp-optimize-by-xtraffic/Application/Service/OptimizeLinks.php
on line
815
Warning
: Invalid argument supplied for foreach() in
/home/wp_2jerat/lahojadearena.com/wp-content/plugins/wp-optimize-by-xtraffic/Application/Service/OptimizeLinks.php
on line
815
Warning
: Invalid argument supplied for foreach() in
/home/wp_2jerat/lahojadearena.com/wp-content/plugins/wp-optimize-by-xtraffic/Application/Service/OptimizeLinks.php
on line
815
Warning
: Invalid argument supplied for foreach() in
/home/wp_2jerat/lahojadearena.com/wp-content/plugins/wp-optimize-by-xtraffic/Application/Service/OptimizeLinks.php
on line
815
Warning
: Invalid argument supplied for foreach() in
/home/wp_2jerat/lahojadearena.com/wp-content/plugins/wp-optimize-by-xtraffic/Application/Service/OptimizeLinks.php
on line
815
Warning
: Invalid argument supplied for foreach() in
/home/wp_2jerat/lahojadearena.com/wp-content/plugins/wp-optimize-by-xtraffic/Application/Service/OptimizeLinks.php
on line
815
Warning
: Invalid argument supplied for foreach() in
/home/wp_2jerat/lahojadearena.com/wp-content/plugins/wp-optimize-by-xtraffic/Application/Service/OptimizeLinks.php
on line
815
Warning
: Invalid argument supplied for foreach() in
/home/wp_2jerat/lahojadearena.com/wp-content/plugins/wp-optimize-by-xtraffic/Application/Service/OptimizeLinks.php
on line
815
Warning
: Invalid argument supplied for foreach() in
/home/wp_2jerat/lahojadearena.com/wp-content/plugins/wp-optimize-by-xtraffic/Application/Service/OptimizeLinks.php
on line
815
Warning
: Invalid argument supplied for foreach() in
/home/wp_2jerat/lahojadearena.com/wp-content/plugins/wp-optimize-by-xtraffic/Application/Service/OptimizeLinks.php
on line
815
Warning
: Invalid argument supplied for foreach() in
/home/wp_2jerat/lahojadearena.com/wp-content/plugins/wp-optimize-by-xtraffic/Application/Service/OptimizeLinks.php
on line
815
Warning
: Invalid argument supplied for foreach() in
/home/wp_2jerat/lahojadearena.com/wp-content/plugins/wp-optimize-by-xtraffic/Application/Service/OptimizeLinks.php
on line
815
Warning
: Invalid argument supplied for foreach() in
/home/wp_2jerat/lahojadearena.com/wp-content/plugins/wp-optimize-by-xtraffic/Application/Service/OptimizeLinks.php
on line
815
Warning
: Invalid argument supplied for foreach() in
/home/wp_2jerat/lahojadearena.com/wp-content/plugins/wp-optimize-by-xtraffic/Application/Service/OptimizeLinks.php
on line
815
Warning
: Invalid argument supplied for foreach() in
/home/wp_2jerat/lahojadearena.com/wp-content/plugins/wp-optimize-by-xtraffic/Application/Service/OptimizeLinks.php
on line
815
Warning
: Invalid argument supplied for foreach() in
/home/wp_2jerat/lahojadearena.com/wp-content/plugins/wp-optimize-by-xtraffic/Application/Service/OptimizeLinks.php
on line
815
Warning
: Invalid argument supplied for foreach() in
/home/wp_2jerat/lahojadearena.com/wp-content/plugins/wp-optimize-by-xtraffic/Application/Service/OptimizeLinks.php
on line
815
Warning
: Invalid argument supplied for foreach() in
/home/wp_2jerat/lahojadearena.com/wp-content/plugins/wp-optimize-by-xtraffic/Application/Service/OptimizeLinks.php
on line
815
Warning
: Invalid argument supplied for foreach() in
/home/wp_2jerat/lahojadearena.com/wp-content/plugins/wp-optimize-by-xtraffic/Application/Service/OptimizeLinks.php
on line
815
Warning
: Invalid argument supplied for foreach() in
/home/wp_2jerat/lahojadearena.com/wp-content/plugins/wp-optimize-by-xtraffic/Application/Service/OptimizeLinks.php
on line
815
Warning
: Invalid argument supplied for foreach() in
/home/wp_2jerat/lahojadearena.com/wp-content/plugins/wp-optimize-by-xtraffic/Application/Service/OptimizeLinks.php
on line
815
Warning
: Invalid argument supplied for foreach() in
/home/wp_2jerat/lahojadearena.com/wp-content/plugins/wp-optimize-by-xtraffic/Application/Service/OptimizeLinks.php
on line
815
Warning
: Invalid argument supplied for foreach() in
/home/wp_2jerat/lahojadearena.com/wp-content/plugins/wp-optimize-by-xtraffic/Application/Service/OptimizeLinks.php
on line
815
Warning
: Invalid argument supplied for foreach() in
/home/wp_2jerat/lahojadearena.com/wp-content/plugins/wp-optimize-by-xtraffic/Application/Service/OptimizeLinks.php
on line
815
Warning
: Invalid argument supplied for foreach() in
/home/wp_2jerat/lahojadearena.com/wp-content/plugins/wp-optimize-by-xtraffic/Application/Service/OptimizeLinks.php
on line
815
Warning
: Invalid argument supplied for foreach() in
/home/wp_2jerat/lahojadearena.com/wp-content/plugins/wp-optimize-by-xtraffic/Application/Service/OptimizeLinks.php
on line
815
Warning
: Invalid argument supplied for foreach() in
/home/wp_2jerat/lahojadearena.com/wp-content/plugins/wp-optimize-by-xtraffic/Application/Service/OptimizeLinks.php
on line
815
Warning
: Invalid argument supplied for foreach() in
/home/wp_2jerat/lahojadearena.com/wp-content/plugins/wp-optimize-by-xtraffic/Application/Service/OptimizeLinks.php
on line
815
Warning
: Invalid argument supplied for foreach() in
/home/wp_2jerat/lahojadearena.com/wp-content/plugins/wp-optimize-by-xtraffic/Application/Service/OptimizeLinks.php
on line
815
Warning
: Invalid argument supplied for foreach() in
/home/wp_2jerat/lahojadearena.com/wp-content/plugins/wp-optimize-by-xtraffic/Application/Service/OptimizeLinks.php
on line
815
Warning
: Invalid argument supplied for foreach() in
/home/wp_2jerat/lahojadearena.com/wp-content/plugins/wp-optimize-by-xtraffic/Application/Service/OptimizeLinks.php
on line
815
Warning
: Invalid argument supplied for foreach() in
/home/wp_2jerat/lahojadearena.com/wp-content/plugins/wp-optimize-by-xtraffic/Application/Service/OptimizeLinks.php
on line
815
Warning
: Invalid argument supplied for foreach() in
/home/wp_2jerat/lahojadearena.com/wp-content/plugins/wp-optimize-by-xtraffic/Application/Service/OptimizeLinks.php
on line
815
Warning
: Invalid argument supplied for foreach() in
/home/wp_2jerat/lahojadearena.com/wp-content/plugins/wp-optimize-by-xtraffic/Application/Service/OptimizeLinks.php
on line
815
Warning
: Invalid argument supplied for foreach() in
/home/wp_2jerat/lahojadearena.com/wp-content/plugins/wp-optimize-by-xtraffic/Application/Service/OptimizeLinks.php
on line
815
Warning
: Invalid argument supplied for foreach() in
/home/wp_2jerat/lahojadearena.com/wp-content/plugins/wp-optimize-by-xtraffic/Application/Service/OptimizeLinks.php
on line
815
Warning
: Invalid argument supplied for foreach() in
/home/wp_2jerat/lahojadearena.com/wp-content/plugins/wp-optimize-by-xtraffic/Application/Service/OptimizeLinks.php
on line
815
Warning
: Invalid argument supplied for foreach() in
/home/wp_2jerat/lahojadearena.com/wp-content/plugins/wp-optimize-by-xtraffic/Application/Service/OptimizeLinks.php
on line
815
Warning
: Invalid argument supplied for foreach() in
/home/wp_2jerat/lahojadearena.com/wp-content/plugins/wp-optimize-by-xtraffic/Application/Service/OptimizeLinks.php
on line
815
Warning
: Invalid argument supplied for foreach() in
/home/wp_2jerat/lahojadearena.com/wp-content/plugins/wp-optimize-by-xtraffic/Application/Service/OptimizeLinks.php
on line
815
Warning
: Invalid argument supplied for foreach() in
/home/wp_2jerat/lahojadearena.com/wp-content/plugins/wp-optimize-by-xtraffic/Application/Service/OptimizeLinks.php
on line
815
Warning
: Invalid argument supplied for foreach() in
/home/wp_2jerat/lahojadearena.com/wp-content/plugins/wp-optimize-by-xtraffic/Application/Service/OptimizeLinks.php
on line
815
Warning
: Invalid argument supplied for foreach() in
/home/wp_2jerat/lahojadearena.com/wp-content/plugins/wp-optimize-by-xtraffic/Application/Service/OptimizeLinks.php
on line
815
Warning
: Invalid argument supplied for foreach() in
/home/wp_2jerat/lahojadearena.com/wp-content/plugins/wp-optimize-by-xtraffic/Application/Service/OptimizeLinks.php
on line
815
Warning
: Invalid argument supplied for foreach() in
/home/wp_2jerat/lahojadearena.com/wp-content/plugins/wp-optimize-by-xtraffic/Application/Service/OptimizeLinks.php
on line
815
Warning
: Invalid argument supplied for foreach() in
/home/wp_2jerat/lahojadearena.com/wp-content/plugins/wp-optimize-by-xtraffic/Application/Service/OptimizeLinks.php
on line
815
Warning
: Invalid argument supplied for foreach() in
/home/wp_2jerat/lahojadearena.com/wp-content/plugins/wp-optimize-by-xtraffic/Application/Service/OptimizeLinks.php
on line
815
Warning
: Invalid argument supplied for foreach() in
/home/wp_2jerat/lahojadearena.com/wp-content/plugins/wp-optimize-by-xtraffic/Application/Service/OptimizeLinks.php
on line
815
Warning
: Invalid argument supplied for foreach() in
/home/wp_2jerat/lahojadearena.com/wp-content/plugins/wp-optimize-by-xtraffic/Application/Service/OptimizeLinks.php
on line
815
Warning
: Invalid argument supplied for foreach() in
/home/wp_2jerat/lahojadearena.com/wp-content/plugins/wp-optimize-by-xtraffic/Application/Service/OptimizeLinks.php
on line
815
Warning
: Invalid argument supplied for foreach() in
/home/wp_2jerat/lahojadearena.com/wp-content/plugins/wp-optimize-by-xtraffic/Application/Service/OptimizeLinks.php
on line
815
Warning
: Invalid argument supplied for foreach() in
/home/wp_2jerat/lahojadearena.com/wp-content/plugins/wp-optimize-by-xtraffic/Application/Service/OptimizeLinks.php
on line
815
Warning
: Invalid argument supplied for foreach() in
/home/wp_2jerat/lahojadearena.com/wp-content/plugins/wp-optimize-by-xtraffic/Application/Service/OptimizeLinks.php
on line
815
Warning
: Invalid argument supplied for foreach() in
/home/wp_2jerat/lahojadearena.com/wp-content/plugins/wp-optimize-by-xtraffic/Application/Service/OptimizeLinks.php
on line
815
Warning
: Invalid argument supplied for foreach() in
/home/wp_2jerat/lahojadearena.com/wp-content/plugins/wp-optimize-by-xtraffic/Application/Service/OptimizeLinks.php
on line
815
Warning
: Invalid argument supplied for foreach() in
/home/wp_2jerat/lahojadearena.com/wp-content/plugins/wp-optimize-by-xtraffic/Application/Service/OptimizeLinks.php
on line
815
Warning
: Invalid argument supplied for foreach() in
/home/wp_2jerat/lahojadearena.com/wp-content/plugins/wp-optimize-by-xtraffic/Application/Service/OptimizeLinks.php
on line
815
Warning
: Invalid argument supplied for foreach() in
/home/wp_2jerat/lahojadearena.com/wp-content/plugins/wp-optimize-by-xtraffic/Application/Service/OptimizeLinks.php
on line
815
Warning
: Invalid argument supplied for foreach() in
/home/wp_2jerat/lahojadearena.com/wp-content/plugins/wp-optimize-by-xtraffic/Application/Service/OptimizeLinks.php
on line
815
Warning
: Invalid argument supplied for foreach() in
/home/wp_2jerat/lahojadearena.com/wp-content/plugins/wp-optimize-by-xtraffic/Application/Service/OptimizeLinks.php
on line
815
Warning
: Invalid argument supplied for foreach() in
/home/wp_2jerat/lahojadearena.com/wp-content/plugins/wp-optimize-by-xtraffic/Application/Service/OptimizeLinks.php
on line
815
Warning
: Invalid argument supplied for foreach() in
/home/wp_2jerat/lahojadearena.com/wp-content/plugins/wp-optimize-by-xtraffic/Application/Service/OptimizeLinks.php
on line
815
Warning
: Invalid argument supplied for foreach() in
/home/wp_2jerat/lahojadearena.com/wp-content/plugins/wp-optimize-by-xtraffic/Application/Service/OptimizeLinks.php
on line
815
Warning
: Invalid argument supplied for foreach() in
/home/wp_2jerat/lahojadearena.com/wp-content/plugins/wp-optimize-by-xtraffic/Application/Service/OptimizeLinks.php
on line
815
Warning
: Invalid argument supplied for foreach() in
/home/wp_2jerat/lahojadearena.com/wp-content/plugins/wp-optimize-by-xtraffic/Application/Service/OptimizeLinks.php
on line
815
Warning
: Invalid argument supplied for foreach() in
/home/wp_2jerat/lahojadearena.com/wp-content/plugins/wp-optimize-by-xtraffic/Application/Service/OptimizeLinks.php
on line
815
Warning
: Invalid argument supplied for foreach() in
/home/wp_2jerat/lahojadearena.com/wp-content/plugins/wp-optimize-by-xtraffic/Application/Service/OptimizeLinks.php
on line
815
Warning
: Invalid argument supplied for foreach() in
/home/wp_2jerat/lahojadearena.com/wp-content/plugins/wp-optimize-by-xtraffic/Application/Service/OptimizeLinks.php
on line
815
Warning
: Invalid argument supplied for foreach() in
/home/wp_2jerat/lahojadearena.com/wp-content/plugins/wp-optimize-by-xtraffic/Application/Service/OptimizeLinks.php
on line
815
Warning
: Invalid argument supplied for foreach() in
/home/wp_2jerat/lahojadearena.com/wp-content/plugins/wp-optimize-by-xtraffic/Application/Service/OptimizeLinks.php
on line
815
Warning
: Invalid argument supplied for foreach() in
/home/wp_2jerat/lahojadearena.com/wp-content/plugins/wp-optimize-by-xtraffic/Application/Service/OptimizeLinks.php
on line
815
Warning
: Invalid argument supplied for foreach() in
/home/wp_2jerat/lahojadearena.com/wp-content/plugins/wp-optimize-by-xtraffic/Application/Service/OptimizeLinks.php
on line
815
Warning
: Invalid argument supplied for foreach() in
/home/wp_2jerat/lahojadearena.com/wp-content/plugins/wp-optimize-by-xtraffic/Application/Service/OptimizeLinks.php
on line
815
Warning
: Invalid argument supplied for foreach() in
/home/wp_2jerat/lahojadearena.com/wp-content/plugins/wp-optimize-by-xtraffic/Application/Service/OptimizeLinks.php
on line
815
Warning
: Invalid argument supplied for foreach() in
/home/wp_2jerat/lahojadearena.com/wp-content/plugins/wp-optimize-by-xtraffic/Application/Service/OptimizeLinks.php
on line
815
Warning
: Invalid argument supplied for foreach() in
/home/wp_2jerat/lahojadearena.com/wp-content/plugins/wp-optimize-by-xtraffic/Application/Service/OptimizeLinks.php
on line
815
Warning
: Invalid argument supplied for foreach() in
/home/wp_2jerat/lahojadearena.com/wp-content/plugins/wp-optimize-by-xtraffic/Application/Service/OptimizeLinks.php
on line
815
Warning
: Invalid argument supplied for foreach() in
/home/wp_2jerat/lahojadearena.com/wp-content/plugins/wp-optimize-by-xtraffic/Application/Service/OptimizeLinks.php
on line
815
Warning
: Invalid argument supplied for foreach() in
/home/wp_2jerat/lahojadearena.com/wp-content/plugins/wp-optimize-by-xtraffic/Application/Service/OptimizeLinks.php
on line
815
Warning
: Invalid argument supplied for foreach() in
/home/wp_2jerat/lahojadearena.com/wp-content/plugins/wp-optimize-by-xtraffic/Application/Service/OptimizeLinks.php
on line
815
Warning
: Invalid argument supplied for foreach() in
/home/wp_2jerat/lahojadearena.com/wp-content/plugins/wp-optimize-by-xtraffic/Application/Service/OptimizeLinks.php
on line
815
Warning
: Invalid argument supplied for foreach() in
/home/wp_2jerat/lahojadearena.com/wp-content/plugins/wp-optimize-by-xtraffic/Application/Service/OptimizeLinks.php
on line
815
Warning
: Invalid argument supplied for foreach() in
/home/wp_2jerat/lahojadearena.com/wp-content/plugins/wp-optimize-by-xtraffic/Application/Service/OptimizeLinks.php
on line
815
Warning
: Invalid argument supplied for foreach() in
/home/wp_2jerat/lahojadearena.com/wp-content/plugins/wp-optimize-by-xtraffic/Application/Service/OptimizeLinks.php
on line
815
Warning
: Invalid argument supplied for foreach() in
/home/wp_2jerat/lahojadearena.com/wp-content/plugins/wp-optimize-by-xtraffic/Application/Service/OptimizeLinks.php
on line
815
Warning
: Invalid argument supplied for foreach() in
/home/wp_2jerat/lahojadearena.com/wp-content/plugins/wp-optimize-by-xtraffic/Application/Service/OptimizeLinks.php
on line
815
Warning
: Invalid argument supplied for foreach() in
/home/wp_2jerat/lahojadearena.com/wp-content/plugins/wp-optimize-by-xtraffic/Application/Service/OptimizeLinks.php
on line
815
Warning
: Invalid argument supplied for foreach() in
/home/wp_2jerat/lahojadearena.com/wp-content/plugins/wp-optimize-by-xtraffic/Application/Service/OptimizeLinks.php
on line
815
Warning
: Invalid argument supplied for foreach() in
/home/wp_2jerat/lahojadearena.com/wp-content/plugins/wp-optimize-by-xtraffic/Application/Service/OptimizeLinks.php
on line
815
Warning
: Invalid argument supplied for foreach() in
/home/wp_2jerat/lahojadearena.com/wp-content/plugins/wp-optimize-by-xtraffic/Application/Service/OptimizeLinks.php
on line
815
Warning
: Invalid argument supplied for foreach() in
/home/wp_2jerat/lahojadearena.com/wp-content/plugins/wp-optimize-by-xtraffic/Application/Service/OptimizeLinks.php
on line
815
Warning
: Invalid argument supplied for foreach() in
/home/wp_2jerat/lahojadearena.com/wp-content/plugins/wp-optimize-by-xtraffic/Application/Service/OptimizeLinks.php
on line
815
Warning
: Invalid argument supplied for foreach() in
/home/wp_2jerat/lahojadearena.com/wp-content/plugins/wp-optimize-by-xtraffic/Application/Service/OptimizeLinks.php
on line
815
Warning
: Invalid argument supplied for foreach() in
/home/wp_2jerat/lahojadearena.com/wp-content/plugins/wp-optimize-by-xtraffic/Application/Service/OptimizeLinks.php
on line
815
Warning
: Invalid argument supplied for foreach() in
/home/wp_2jerat/lahojadearena.com/wp-content/plugins/wp-optimize-by-xtraffic/Application/Service/OptimizeLinks.php
on line
815
Warning
: Invalid argument supplied for foreach() in
/home/wp_2jerat/lahojadearena.com/wp-content/plugins/wp-optimize-by-xtraffic/Application/Service/OptimizeLinks.php
on line
815
Warning
: Invalid argument supplied for foreach() in
/home/wp_2jerat/lahojadearena.com/wp-content/plugins/wp-optimize-by-xtraffic/Application/Service/OptimizeLinks.php
on line
815
Warning
: Invalid argument supplied for foreach() in
/home/wp_2jerat/lahojadearena.com/wp-content/plugins/wp-optimize-by-xtraffic/Application/Service/OptimizeLinks.php
on line
815
Warning
: Invalid argument supplied for foreach() in
/home/wp_2jerat/lahojadearena.com/wp-content/plugins/wp-optimize-by-xtraffic/Application/Service/OptimizeLinks.php
on line
815
Warning
: Invalid argument supplied for foreach() in
/home/wp_2jerat/lahojadearena.com/wp-content/plugins/wp-optimize-by-xtraffic/Application/Service/OptimizeLinks.php
on line
815
Warning
: Invalid argument supplied for foreach() in
/home/wp_2jerat/lahojadearena.com/wp-content/plugins/wp-optimize-by-xtraffic/Application/Service/OptimizeLinks.php
on line
815
Warning
: Invalid argument supplied for foreach() in
/home/wp_2jerat/lahojadearena.com/wp-content/plugins/wp-optimize-by-xtraffic/Application/Service/OptimizeLinks.php
on line
815
Warning
: Invalid argument supplied for foreach() in
/home/wp_2jerat/lahojadearena.com/wp-content/plugins/wp-optimize-by-xtraffic/Application/Service/OptimizeLinks.php
on line
815
Warning
: Invalid argument supplied for foreach() in
/home/wp_2jerat/lahojadearena.com/wp-content/plugins/wp-optimize-by-xtraffic/Application/Service/OptimizeLinks.php
on line
815
Warning
: Invalid argument supplied for foreach() in
/home/wp_2jerat/lahojadearena.com/wp-content/plugins/wp-optimize-by-xtraffic/Application/Service/OptimizeLinks.php
on line
815
Warning
: Invalid argument supplied for foreach() in
/home/wp_2jerat/lahojadearena.com/wp-content/plugins/wp-optimize-by-xtraffic/Application/Service/OptimizeLinks.php
on line
815
Warning
: Invalid argument supplied for foreach() in
/home/wp_2jerat/lahojadearena.com/wp-content/plugins/wp-optimize-by-xtraffic/Application/Service/OptimizeLinks.php
on line
815
Warning
: Invalid argument supplied for foreach() in
/home/wp_2jerat/lahojadearena.com/wp-content/plugins/wp-optimize-by-xtraffic/Application/Service/OptimizeLinks.php
on line
815
Warning
: Invalid argument supplied for foreach() in
/home/wp_2jerat/lahojadearena.com/wp-content/plugins/wp-optimize-by-xtraffic/Application/Service/OptimizeLinks.php
on line
815
Warning
: Invalid argument supplied for foreach() in
/home/wp_2jerat/lahojadearena.com/wp-content/plugins/wp-optimize-by-xtraffic/Application/Service/OptimizeLinks.php
on line
815
Warning
: Invalid argument supplied for foreach() in
/home/wp_2jerat/lahojadearena.com/wp-content/plugins/wp-optimize-by-xtraffic/Application/Service/OptimizeLinks.php
on line
815
Warning
: Invalid argument supplied for foreach() in
/home/wp_2jerat/lahojadearena.com/wp-content/plugins/wp-optimize-by-xtraffic/Application/Service/OptimizeLinks.php
on line
815
Warning
: Invalid argument supplied for foreach() in
/home/wp_2jerat/lahojadearena.com/wp-content/plugins/wp-optimize-by-xtraffic/Application/Service/OptimizeLinks.php
on line
815
Warning
: Invalid argument supplied for foreach() in
/home/wp_2jerat/lahojadearena.com/wp-content/plugins/wp-optimize-by-xtraffic/Application/Service/OptimizeLinks.php
on line
815
Warning
: Invalid argument supplied for foreach() in
/home/wp_2jerat/lahojadearena.com/wp-content/plugins/wp-optimize-by-xtraffic/Application/Service/OptimizeLinks.php
on line
815
Warning
: Invalid argument supplied for foreach() in
/home/wp_2jerat/lahojadearena.com/wp-content/plugins/wp-optimize-by-xtraffic/Application/Service/OptimizeLinks.php
on line
815
Warning
: Invalid argument supplied for foreach() in
/home/wp_2jerat/lahojadearena.com/wp-content/plugins/wp-optimize-by-xtraffic/Application/Service/OptimizeLinks.php
on line
815
Warning
: Invalid argument supplied for foreach() in
/home/wp_2jerat/lahojadearena.com/wp-content/plugins/wp-optimize-by-xtraffic/Application/Service/OptimizeLinks.php
on line
815
Warning
: Invalid argument supplied for foreach() in
/home/wp_2jerat/lahojadearena.com/wp-content/plugins/wp-optimize-by-xtraffic/Application/Service/OptimizeLinks.php
on line
815
Warning
: Invalid argument supplied for foreach() in
/home/wp_2jerat/lahojadearena.com/wp-content/plugins/wp-optimize-by-xtraffic/Application/Service/OptimizeLinks.php
on line
815
Warning
: Invalid argument supplied for foreach() in
/home/wp_2jerat/lahojadearena.com/wp-content/plugins/wp-optimize-by-xtraffic/Application/Service/OptimizeLinks.php
on line
815
Warning
: Invalid argument supplied for foreach() in
/home/wp_2jerat/lahojadearena.com/wp-content/plugins/wp-optimize-by-xtraffic/Application/Service/OptimizeLinks.php
on line
815
Warning
: Invalid argument supplied for foreach() in
/home/wp_2jerat/lahojadearena.com/wp-content/plugins/wp-optimize-by-xtraffic/Application/Service/OptimizeLinks.php
on line
815
Warning
: Invalid argument supplied for foreach() in
/home/wp_2jerat/lahojadearena.com/wp-content/plugins/wp-optimize-by-xtraffic/Application/Service/OptimizeLinks.php
on line
815
Warning
: Invalid argument supplied for foreach() in
/home/wp_2jerat/lahojadearena.com/wp-content/plugins/wp-optimize-by-xtraffic/Application/Service/OptimizeLinks.php
on line
815
Warning
: Invalid argument supplied for foreach() in
/home/wp_2jerat/lahojadearena.com/wp-content/plugins/wp-optimize-by-xtraffic/Application/Service/OptimizeLinks.php
on line
815
Warning
: Invalid argument supplied for foreach() in
/home/wp_2jerat/lahojadearena.com/wp-content/plugins/wp-optimize-by-xtraffic/Application/Service/OptimizeLinks.php
on line
815
Warning
: Invalid argument supplied for foreach() in
/home/wp_2jerat/lahojadearena.com/wp-content/plugins/wp-optimize-by-xtraffic/Application/Service/OptimizeLinks.php
on line
815
Warning
: Invalid argument supplied for foreach() in
/home/wp_2jerat/lahojadearena.com/wp-content/plugins/wp-optimize-by-xtraffic/Application/Service/OptimizeLinks.php
on line
815
Warning
: Invalid argument supplied for foreach() in
/home/wp_2jerat/lahojadearena.com/wp-content/plugins/wp-optimize-by-xtraffic/Application/Service/OptimizeLinks.php
on line
815
Warning
: Invalid argument supplied for foreach() in
/home/wp_2jerat/lahojadearena.com/wp-content/plugins/wp-optimize-by-xtraffic/Application/Service/OptimizeLinks.php
on line
815
Warning
: Invalid argument supplied for foreach() in
/home/wp_2jerat/lahojadearena.com/wp-content/plugins/wp-optimize-by-xtraffic/Application/Service/OptimizeLinks.php
on line
815
Warning
: Invalid argument supplied for foreach() in
/home/wp_2jerat/lahojadearena.com/wp-content/plugins/wp-optimize-by-xtraffic/Application/Service/OptimizeLinks.php
on line
815
Para una revista digital, atravesar en cadena su segundo aniversario de existencia – ¿sobrevivencia?–, un cambio de piel electrónica y la obtención de una beca gubernamental, necesariamente implica un cambio de perspectiva.
Y es justamente esa perspectiva dislocada la que permea los textos de esta edición Septiembre-octubre: el cristal con que se mira y, sobre todo, quién mira por el cristal.
Javier Rendón, por ejemplo, nos ofrece un panorama de cómo se perciben entre la población las marchas magisteriales en el Distrito Federal, mientras que Alberto Saldogna pasa el fantasma del racismo por el filtro del psicoanálisis, Lutz Alexander Keferstein se pregunta en "Drogas y lógica estatal" por qué el Estado cambia de opinión según le conviene, y David Ledesma resume lo que proponen las ecofeministas.
En la sección de literatura, el equipo de Cuentosymas nos regala una mirilla por la cual atisbar el paradójicamente enorme mundo de la microficción, y dos cuentos, "Rosa pálido" y "Tarde de zafra", ponen a recorrer a sus personajes los distintos significados del color y del miedo, cada uno. Asimismo en sus poemas, Ben Clark transporta el odio a los herederos del odio, el infinito al salón de clases, la revolución a la primavera.
Lo independiente es también alternativa de paisaje: así, los grandes exponentes del cine indie desfilan por el artículo de Andrea Echeverri y le dan forma al concepto; mientras que en "Casa Imelda / Taller Dos Coyotes" Omar Espinosa nos abre la puerta a un centro de producción artística y su taller textil ubicados en el corazón de Santa María la Ribera. Por su parte, en sendas entrevistas, el músico europeo Richard Skelton nos platica cómo se escuchan los bosques de Inglaterra, y el retratista Antonio Nieto nos cuenta cómo se ve el mundo dibujado en punta de plata.
En un reportaje que funde el arte y la prostitución, Alejandro Gael Montiel nos dice por qué cuesta diez veces más caro tener sexo con Gloria que la entrada al Museo del Chopo, y desde Francia importamos otro más sobre el polémico papel del reportero de guerra.
La ciencia, finalmente, tampoco está exenta de perspectiva: los avances científicos y tecnológicos nos han armado contra los peligros grandes y espectaculares, pero ¿estamos listos para enfrentar a un microorganismo del espacio exterior? Fernando Galicia nos responde en "La guerra de los mundos".
La nueva perspectiva de La Hoja de Arena aclara y reafirma su compromiso con las voces que la hacen hablar y los ojos que le hacen eco; con el medio digital y con un contenido multidisciplinario que, más que revolver el aire que ya circula en la red, sople.
Falta en este número bimestral una perspectiva más: la del lector, que idealmente hará su huequito en la arena y se sentará a mirar las hojas a trasluz. En la era digital, las arenas movedizas no presentan mayor riesgo. Bienvenidos.
Adrián Chávez (@Ad_Chz)
Coordinador Revista
_1bb3582e_

Por Adrián Chávez - 01/10/2013

Editorial. Septiembre-Octubre 2013.

The following two tabs change content below.

Adrián Chávez

Escritor y traductor, autor de 'Señales de

vida

' (Fá Editorial). Ha sido becario del Fondo Nacional para la Cultura y las Artes (FONCA) en el área de novela y es editor de La Hoja de Arena. Alterna la

literatura

y la traducción con la docencia. Twitter: @Ad_Chz

Artículos recientes por Adrián Chávez

(_f4c9115a_)
The following two tabs change content below.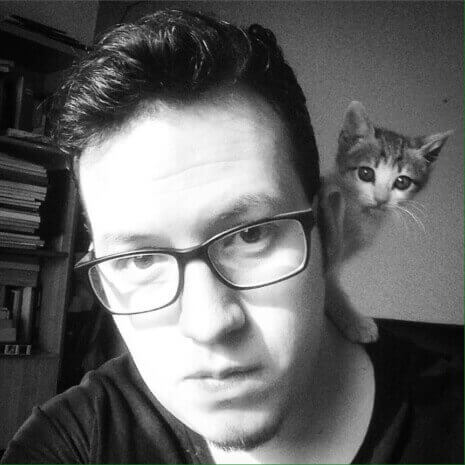 Adrián Chávez
Escritor y traductor, autor de 'Señales de vida' (Fá Editorial). Ha sido becario del Fondo Nacional para la Cultura y las Artes (FONCA) en el área de novela y es editor de La Hoja de Arena. Alterna la literatura y la traducción con la docencia. Twitter: @Ad_Chz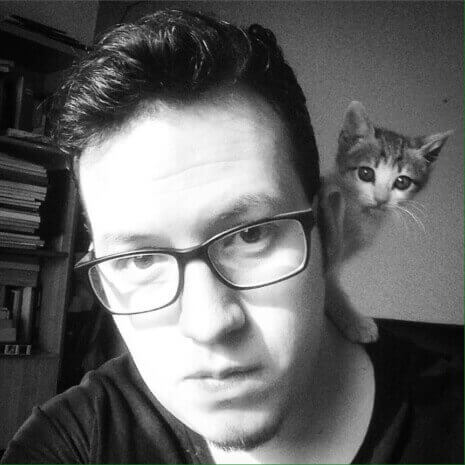 Artículos recientes por Adrián Chávez
(_f4c9115a_)